SAVE MONEY
ON GAS
OIL CHANGES
THE SPEEDY LUBE WAY
Speedy Lube is your partner for oil and filter changes done the speedy way to keep you and your vehicle moving. For maximum engine protection, most manufacturer service recommendations recommend an oil change every 3000-7500 miles under normal driving conditions.


CUSTOM
EXHAUST SERVICES
When you want more than function, ask about our custom exhaust systems for maximum performance, sound and appearance. Whether for the street or the track, our performance advantage can mean the difference. We install high performance exhaust systems for custom and classic automobiles.


BRAKE REPAIR
AND SERVICE
Brake inspection, service and repair have been our business since the beginning.Take the worry out of not knowing the cost of brake service with our complimentary brake inspection (for most vehicles) and written estimate. Allow us give you a complete assessment of your braking system.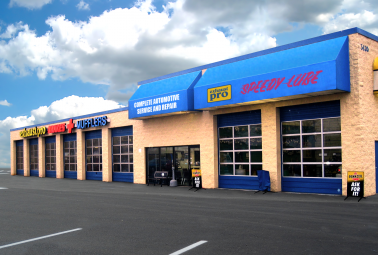 YOUR ONE STOP SHOP
From routine maintenance to major repairs, our experienced technicians solve your auto problems in a timely manner with professional service and convenience at a fair and competitive price. We also offer no-hassle evaluations and advanced computer diagnostics. No appointment necessary.
SERVICES INCLUDE:
• Oil change the Speedy Lube way
• Mufflers, catalytic converters, oxygen (02) sensors
• Custom exhaust systems
• Brake repair & service
• Batteries, total electric, ignition, starting & charging systems
• Shocks & struts, suspension, wheel bearings and steering
• Air conditioning & Heating complete repair
• Radiator repair and power flush services
• Warning lamp: check engine, ABS, Air Bag, Tire Pressure,
Maintenance Required
• Engine diagnostics and repair
• No Start diagnosis
• Filters & fluids, belts & hoses
• Transmission service and replacement
• Identify those pesky rattles, squeaks, chirps & bangs
• Complimentary Brake and Exhaust Inspections
• Lights, wipers and accessories
• Door handles, locks, window & mirror repair/replacement

CALL US TODAY!
Call now for no-hassle, no-pressure advice
LEXINGTON
1312 Winchester Road
859-259-1236


GET DIRECTIONS
1330 Versailles Road
859-252-3718


GET DIRECTIONS
3620 Boston Road
859-223-9866


GET DIRECTIONS
HOURS
Monday-Friday
7:30 a.m. – 5:30 p.m.
Saturday
7:30 a.m. - 2:00 p.m.
Closed Sunday